Crush Cancer 2017
Donate to cancer research and watch me do a grueling workout.
Cancer sucks.
In 2012 I joined a fantastic gym and one of the "side effects" was participating in Crush Cancer 2012 and raising $346 out of the $113,783 total. Having never really fundraised much of anything before, this was major success in my book.
I also got a little too…creative, and pledged to do a burpee for each dollar raised. 346 burpees is a lot of burpees, so I broke them up over, uhh, two years or so, but the resulting video is pretty hilarious.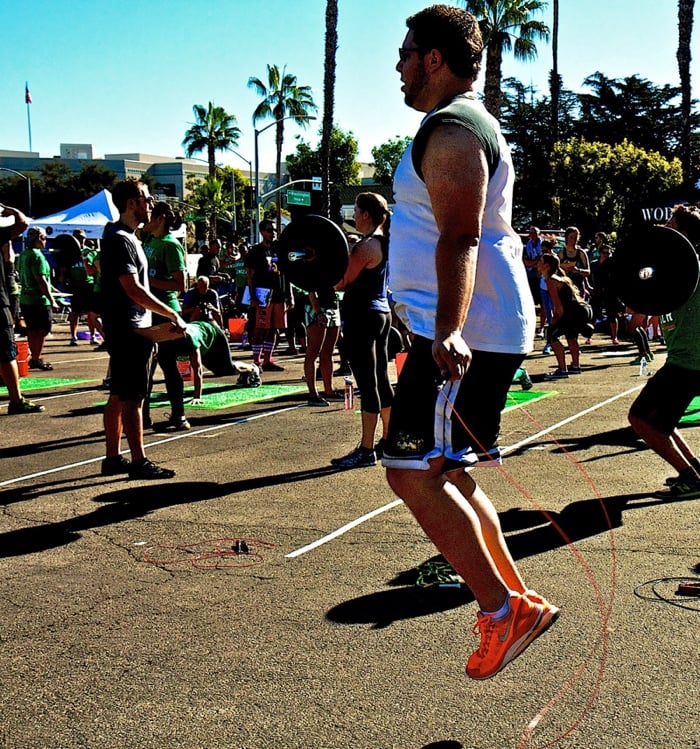 (That's me at Crush Cancer 2012, regretting everything, photographed by Omid Khalili.)
Well, it's time for another round.
I'm not offering any burpees this time around—I learned that lesson in 2012—but you should donate anyway. I've set $500 as my goal, but will shamelessly up it if I get anywhere near that number fast enough. (And depending on your donation amount, you may be able to negotiate something like those infamous burpees…)
Edit: Against my (and everyone else's) better judgment, I will again do a burpee for every dollar donated. However, to avoid the 2012 fiasco, I will do them at a rate of no less than 100 per week, starting the week after the event. For example, If I reach my goal of $500, they'll be done by Sunday, November 26th, 2017. If the total ends up being so high as to make this impractical, I reserve the right to put myself through something just as grueling but doable at a faster pace. So go ahead and donate now, before you forget.
Additionally, the actual workout event is open to public, so you can come and watch me suffer for 17 painfully long minutes, high mostly on adrenaline and questionable ideas about my own fitness.
But really, it's more important that you donate.
---
Thanks for reading! You can keep up with my writing via the feed or newsletter, or you can get in touch via email or Mastodon.
---