Markdown URL Tag Bookmarklets
I started doing most of my writing in a GUI editor and wanted something "closer" than my command-line utility mdut.
A year and a half ago I released mdut, a small utility for generating Markdown URL tags, because I did most of my writing in terminal based editors like Vim and Kakoune. In recent months I found myself writing far more in Ulysses, meaning I'm not already in the terminal during the process, and opening one up to get this functionality isn't quite as convenient.
When I initially shared mdut with the world, Kirk said he wanted that functionality in the browser, and I briefly gave it a whirl, but gave up when I couldn't get copying to clipboard to work. But then I also needed something similar for work recently, and found that just surfacing the text via alert() for manual copying was helpful enough, so I decided to make bookmarklets for this as well.
I mostly use the reference style:
[

TODO

]: 

https://nkantar.com/about/ "About | Nik Kantar"



The code you'll need for the bookmarklet is:
javascript

:

 

(()

 

=>

 

{

 

alert

(

"[TODO]: "

 

+

 

document

.

URL

 

+

 

' "'

 

+

 

document

.

title

 

+

 

'"'

);

 

})();



There's also the inline style:
[

TODO

](

https://nkantar.com/about/ "About | Nik Kantar"

)

Its code:
javascript

:

 

(()

 

=>

 

{

 

alert

(

"[TODO]("

 

+

 

document

.

URL

 

+

 

' "'

 

+

 

document

.

title

 

+

 

'")'

);

 

})();



And finally there's the Slack style, which is just inline without the title tag:
[

TODO

](

https://nkantar.com/about/

)

The code:
javascript

:

 

(()

 

=>

 

{

 

alert

(

"[TODO]("

 

+

 

document

.

URL

 

+

 

")"

);

 

})();



Clicking on the bookmarklet will result in an alert window with text you can select to copy for pasting wherever you please. Here's an example: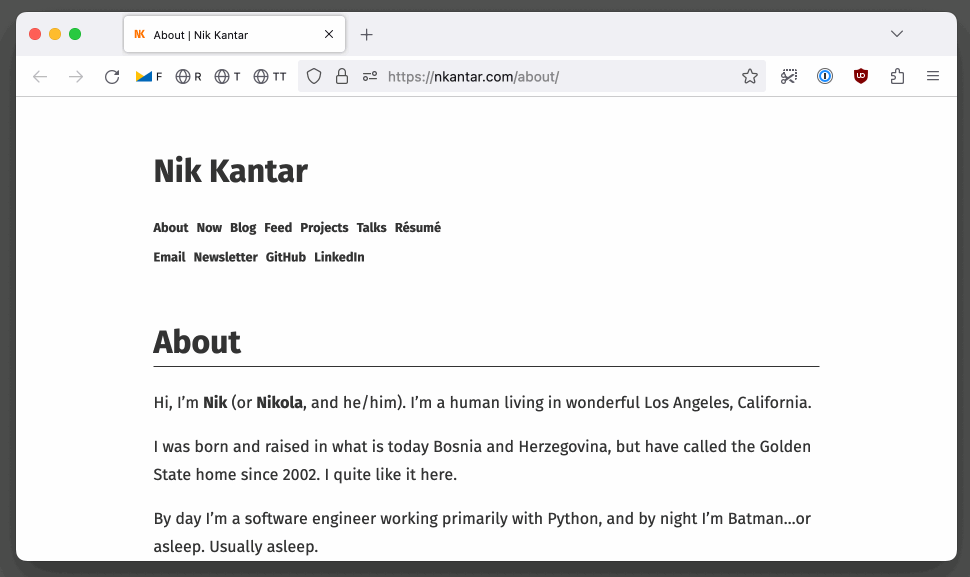 If you're not all that familiar with bookmarklets, this freeCodeCamp overview of them should get you pretty far, but the tl;dr is that you make a browser bookmark with the URL set to the code referenced above (or some other JavaScript snippet), and clicking it will then run said code. Pretty nifty!
---
Thanks for reading! You can keep up with my writing via the feed or newsletter, or you can get in touch via email or Mastodon.
---